60th N.A.C.I.V.T. Boston Volleyball Tournament Lanyards - Red and White Color Printed.
The 60th N.A.C.I.V.T. Boston lanyards are unique designs for carrying ID name badge holders. Lanyard straps are black color heavy duty models. Total lanyard straps length: 36". Silk screen imprinted with red and white color logo. Lanyard hardware attachments: metal swivel hooks.
Lanyards, Lanyards Reference Guide, LY-404HD, Pricing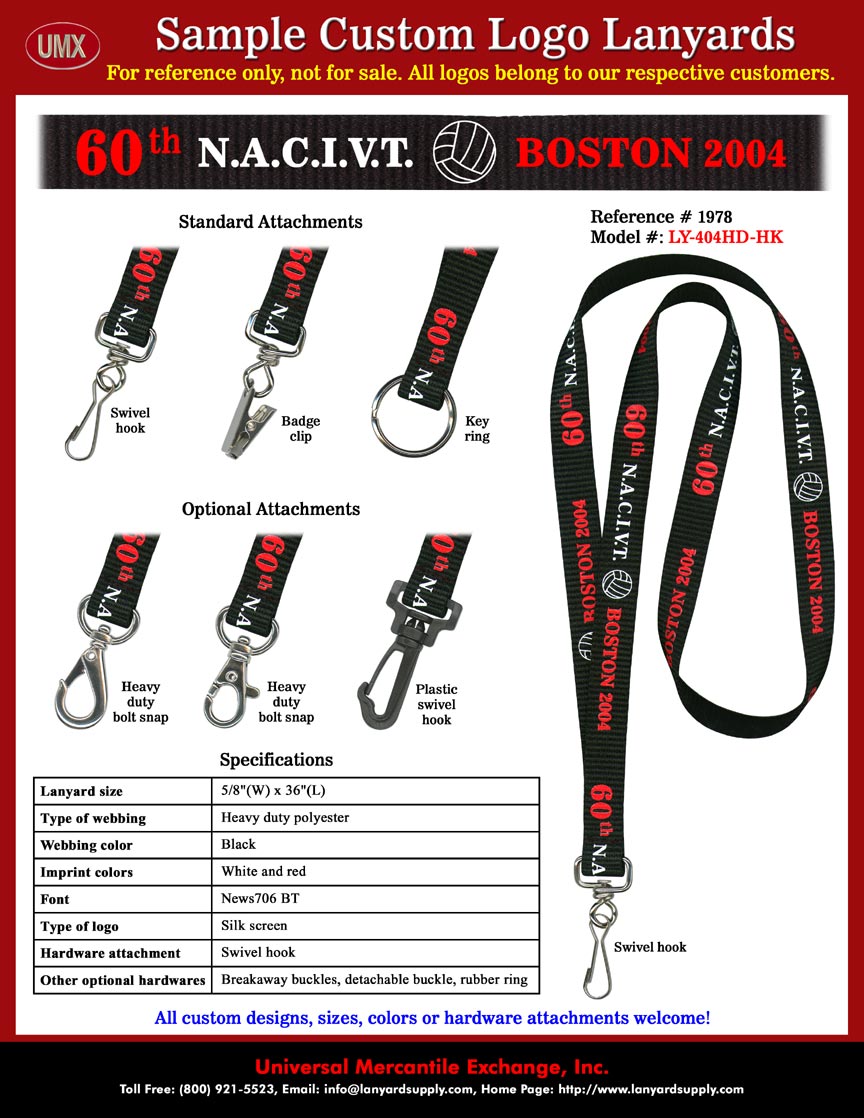 About 60th North American Chinese Invitational Volleyball Tournament Lanyards
September 4-6, 2004
Boston, Massachusetts
Sponsored By:
The North American Chinese Volleyball Association - Boston, Inc.
103 Beach street
Boston, Ma. 02111
The NACVA - Boston is structured with officers, lifetime Board of Directors and honorary luminaries comprising of persons that had been affiliated and involved in the history of the tournament as a player or organizer. It is governed by and Executive Committee comprising of equal representation from the three established Boston teams consisting of the Hurricanes, Freemasons and Knights and under the direction of the President.
Specifications: 5/8" Silk Screen Imprinted Custom Lanyards: 60th N.A.C.I.V.T. Boston - Custom Lanyards - Volleyball Tournament Lanyards.
1. Width of Lanyards:
5/8".
2. Length of Lanyard Webbing/Straps:
36". Optional Length: Any custom length available, like 12", 14",18",20",22",24",32",42",48" and more.
3. Lanyard Webbing/Straps Material:
High quality and heavy duty polyester webbing, non-wrinkle lanyard straps.
4. Colors of Lanyard Webbing/Straps:

Black color.
Standard color available: black, royal blue, navy blue, white, red, yellow, orange, grey, burgundy, dark green, light green, purple and teal colors - minimum order 100 pieces.
Special Pantone PMS colors with a minimum order of 5000 pieces or more.

5. Type of Logo:
Silk screen imprinted.
6. Imprint Colors:
White and red.
7. Font of Text Logo:
News 706 BT
8. Lanyard Hardware Attachments:
Metal swivel hooks.
9. Available Standard and Optional Lanyard Hardware Attachments:

Standard option: metal swivel hooks, key rings or badge clips.
Optional: heavy duty snap hooks, cell phone connector, rubber rings, detachable buckles, safety breakaway buckles and more.

10. Lanyard Applications:
Used as ID lanyards or ID neck lanyards.
11. Lanyard Minimum Order:
100 Pieces.
You are viewing UMX > Lanyards > Lanyards Reference Guide > LY-404HD > 60th N.A.C.I.V.T. Boston - Custom Lanyards - Red and White Color Printed ID Lanyard Supplies.
---
---

Contact: info@umei.com