AES PHEAA AesSuccess Dot Org - Web Address Lanyards.
The AES PHEAA AesSuccess Dot Org lanyards are web address printed lanyards. Lanyard straps are burgundy color heavy duty models. Total lanyard straps length: 36", with silk screen imprinted white color logo. Lanyard hardware attachments: metal swivel hooks.
Lanyards, Lanyards Reference Guide, LY-404HD, Pricing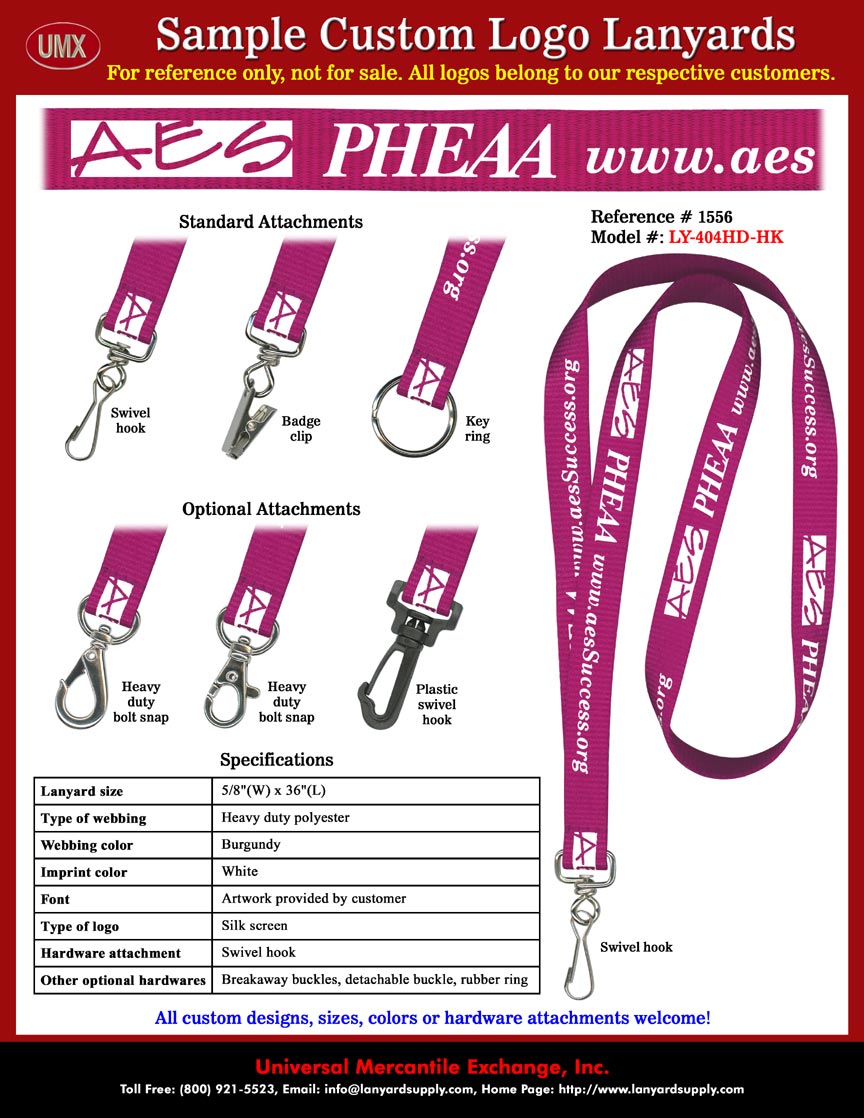 American Education Services is a division of PHEAA (Pennsylvania Higher Education Assistance Agency), which has grown from a small student loan guarantor with a volume of only 4,600 student loans in 1964, to one of the largest, full-service financial aid organizations in the nation. Here, you can learn more about our structure and mission.

AES have devoted their energy, resources and imagination to creating affordable access to higher education for students and their families. AES continues to take a leadership role in developing innovative ways to ease the financial burdens of students and borrowers, while streamlining financial aid delivery systems for schools and lenders.

One example of AES' commitment to students is its long-standing Zero Guaranty Fee Policy, which saves students across the nation more than $20 million each year.
Specifications: 5/8" Silk Screen Imprinted Custom Lanyards: AES PHEAA AesSuccess Dot Org - Web Address Lanyards
1. Width of Lanyards:
5/8".
2. Length of Lanyard Webbing/Straps:
36". Optional Length: Any custom length available, like 12", 14",18",20",22",24",32",42",48" and more.
3. Lanyard Webbing/Straps Material:
High quality and heavy duty polyester webbing, non-wrinkle lanyard straps.
4. Colors of Lanyard Webbing/Straps:

Burgundy color.
Standard color available: black, royal blue, navy blue, white, red, yellow, orange, grey, burgundy, dark green, light green, purple and teal colors - minimum order 100 pieces.
Special Pantone PMS colors with a minimum order of 5000 pieces or more.

5. Type of Logo:
Silk screen imprinted.
6. Imprint Colors:
White.
7. Font of Text Logo:
Artwork provided by AES
8. Lanyard Hardware Attachments:
Metal swivel hooks.
9. Available Standard and Optional Lanyard Hardware Attachments:

Standard option: metal swivel hooks, key rings or badge clips.
Optional: heavy duty snap hooks, cell phone connector, rubber rings, detachable buckles, safety breakaway buckles and more.

10. Lanyard Applications:
Used as ID holder lanyards or ID neck lanyards.
11. Lanyard Minimum Order:
100 Pieces.
You are viewing UMX > Lanyards > Lanyards Reference Guide > LY-404HD > AES PHEAA AesSuccess Dot Org - Web Address Lanyard Supplies.
---
---

Contact: info@umei.com