Colorado TSA Lanyards Imprinted with Star and TSA 2 Color Logo
Colorado TSA Lanyards Imprinted with Star and TSA 2 Color Logo. Lanyard straps are white color heavy duty models. Total lanyard straps length: 36", with silk screen imprinted royal blue and red color logo. Lanyard hardware attachments: metal swivel hooks.
Lanyards, Lanyards Reference Guide, LY-404HD, Pricing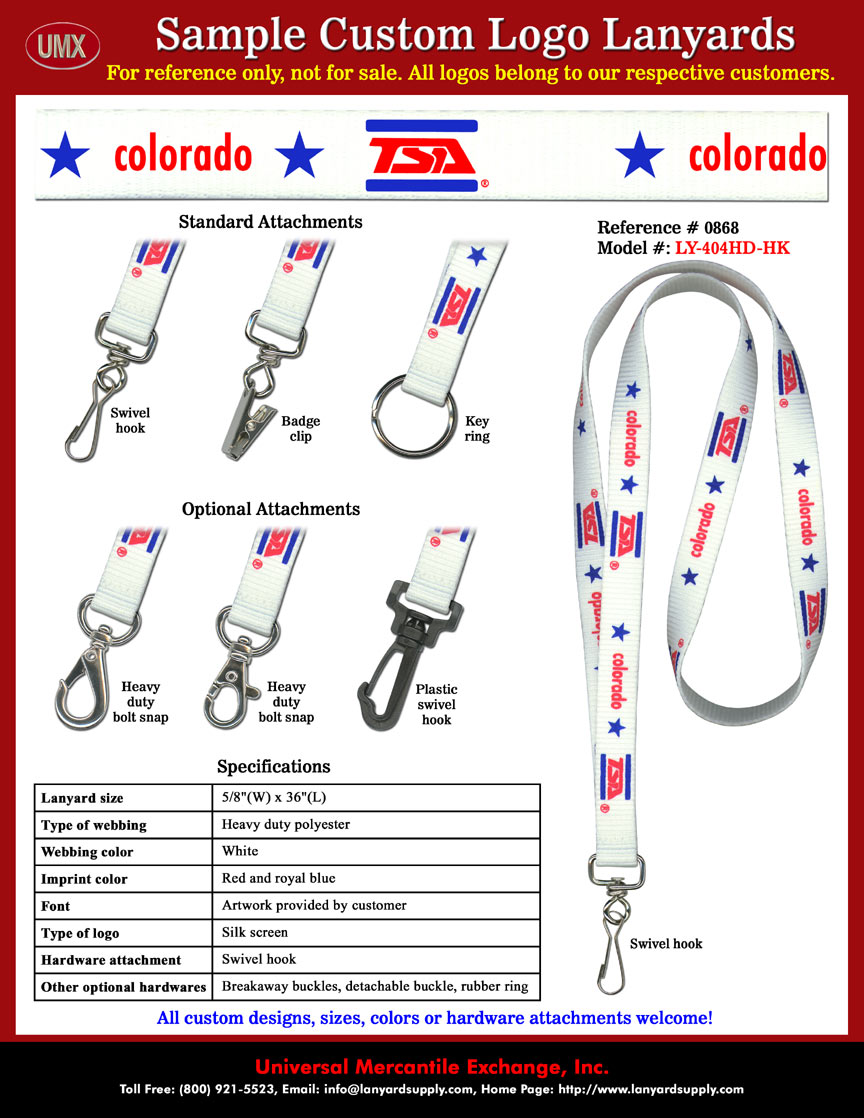 The Technology Student Association (TSA) is a national non-profit organization devoted exclusively to the needs of elementary, middle and high school students with a dedicated interest in technology. Assisting TSA's 170,000 plus student members is a strong support system of educators, alumni, parents and business leaders who believe in the importance of a technologically literate society.
The Technology Student Association is a non-profit national student organization devoted to teaching technology education to young people. TSA's mission is to inspire its student members to prepare for careers in a technology-driven economy and culture. The demand for technological expertise is escalating in American industry. Therefore, TSA's teachers strive to promote technological literacy, leadership, and problem solving to their student membership.
Involvement in TSA benefits teachers as well. Relating class activities to local, regional, state and national competitive events can be highly motivational for students. The natural interaction between teachers and students can be utilized to develop an excellent learning climate, while working toward goals.
TSA is the only student organization dedicated exclusively to students enrolled in technology education classes grades K-12. TSA is recognized by the U.S. Dept of Education, many state education agencies, the National Association of Secondary School Principals, the International Technology Education Association and the National Coordinating Council of Career and Technical Student Organizations.
Specifications: 5/8" Silk Screen Imprinted Custom Lanyards: Colorado TSA Lanyards Imprinted with Star and TSA 2 Color Logo.
1. Width of Lanyards:
5/8".
2. Length of Lanyard Webbing/Straps:
36". Optional Length: Any custom length available, like 12", 14",18",20",22",24",32",42",48" and more.
3. Lanyard Webbing/Straps Material:
High quality and heavy duty polyester webbing, non-wrinkle lanyard straps.
4. Colors of Lanyard Webbing/Straps:

Royal Blue color.
Standard color available: black, royal blue, navy blue, white, red, yellow, orange, grey, burgundy, dark green, light green, purple and teal colors - minimum order 100 pieces.
Special Pantone PMS colors with a minimum order of 5000 pieces or more.

5. Type of Logo:
Silk screen imprinted.
6. Imprint Colors:
White.
7. Font of Text Logo:
Artwork provided by CITI USAC.
8. Lanyard Hardware Attachments:
Metal Swivel Hooks or J-Hooks.
9. Available Standard and Optional Lanyard Hardware Attachments:

Standard option: metal swivel hooks, key rings or badge clips.
Optional: heavy duty snap hooks, cell phone connector, rubber rings, detachable buckles, safety breakaway buckles and more.

10. Lanyard Applications:
Used as ID badge holder lanyards, bank loan promotion lanyards or credit card promotional lanyards.
11. Lanyard Minimum Order:
100 Pieces.
Y
ou are Viewing UMX > Lanyards > Lanyards Reference Guide > LY-404HD > Colorado TSA Lanyards Imprinted with Star and TSA 2 Color Logo Lanyard Supplies.
---
---

Contact: info@umei.com