Kenya Airways Premier World Passengers Travel And Cargo Service Lanyards
The Kenya Airways Premier World Passengers Travel And Cargo Services Lanyards come with Red Color Lanyard Straps with White Color Logo Imprinted. Lanyard straps are red color heavy duty models. Total lanyard straps length: 36", with silk screen imprinted white color logo. Lanyard hardware attachments: metal swivel hooks (J-Hooks).
Lanyards, Lanyards Reference Guide, LY-404HD, Pricing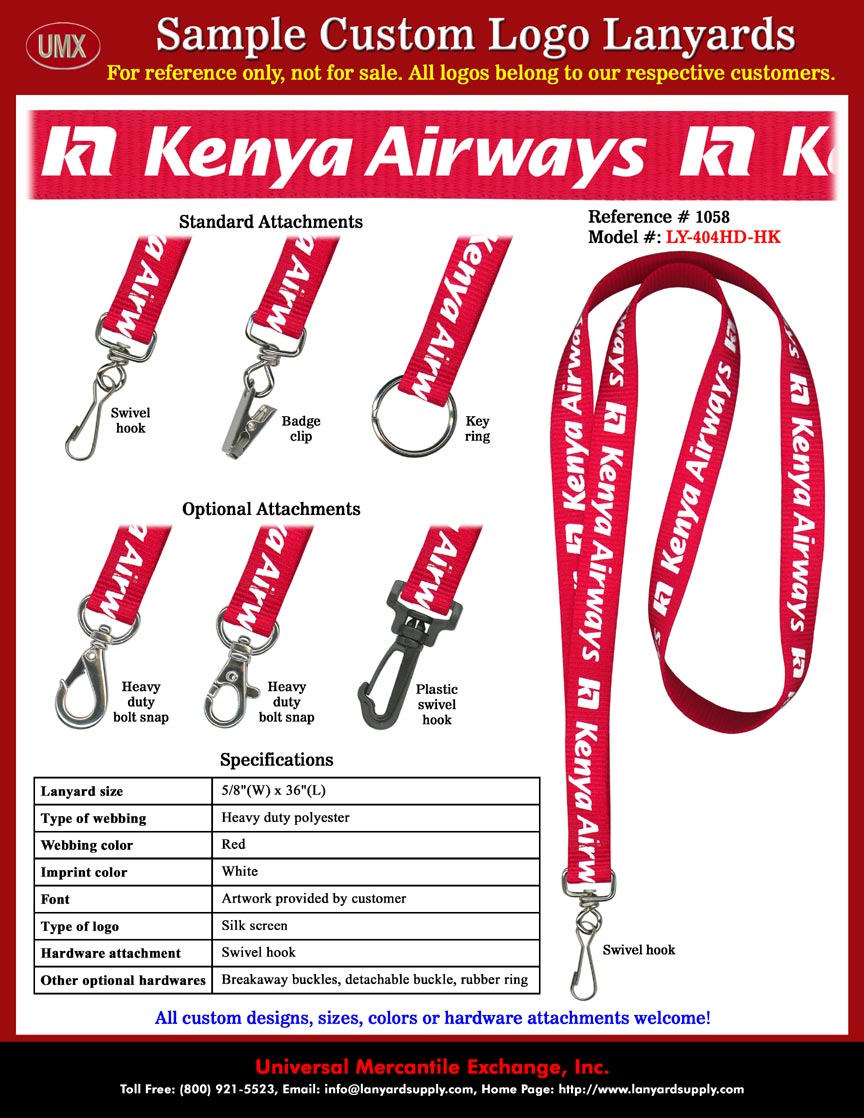 Kenya Airways Premier World Passengers Travel And Cargo Services Lanyards - Related Information
"You can now book Kenya Airways online from Kenya, Uganda, Tanzania, United Arab Emirates, United Kingdom, Norway, Sweden, Denmark and South Africa.
Kenya Airways' Premier World offers passengers and exclusive travel experience. From the time your flight takes off, to your arrival at any of our world-wide destinations, you'll find yourself at the center of a world where your comfort and convenience come first.

At Kenya Airways Cargo, we firmly believe in moving your cargo using the fastest, most convenient and professional mode in order to deliver our enduring promise to our clients.
History of Kenya Airways:
1994 (April)
International Finance Corporation (IFC), is appointed as advisor for the transition process. A privatisation committee is also established.

1995 (May)
An IFC information memorandum is sent to154 airlines in search of a 'strategic partner' culminating in the eventual selection of KLM.

1995 (July)
Kenya Airways restructures its debts.

1995 (Dec)
Shareholders' Agreement and a Master Cooperation Agreement with KLM are concluded.

1996 (Mar)
A Prospectus is issued and shares floated to the public.

1996 (June)
Trading in shares begins at the Nairobi Stock Exchange.



Kenya Attractions:
For adrenaline junkies, the Kenyan coast has become the latest hot spot for aerial adventure- where the equatorial atmosphere at sea level can give skydivers more than a minute of full freefall over the beautiful blue Indian Ocean, before touching down on pure white sands on one of the world's best beaches.

Kenya is a magnificent country, from snow-capped mountains, to sandy beaches, everywhere you will see nature in its splendor. With various National parks ranging from the Masaai Mara, Amboseli to Tsavo National Park, where a there is a heavy presence of different wildlife .

The Rift-valley lakes of Baringo, Bogoria, Naivasha and Nakuru are excellent for bird watching and mountain trekking is common at the Africa's second largest mountain, Mount Kenya, a snow capped mountain. Towards the coast, Lamu an old town which boasts of more dhows than anywhere else off the East African coast.

The white sandy beaches are surrounded by five star hotels, which offer luxury accommodation. The marine National parks located in Malindi, offer glass bottom boats, where one sees a variety of corals and fish. Activities such as deep sea fishing, snorkeling and diving are also popular. Kenya is a country full of adventure."

Specifications: 5/8" Silk Screen Imprinted Custom Lanyards: Kenya Airways Premier World Passengers Travel And Cargo Services.
1. Width of Lanyards:
5/8".
2. Length of Lanyard Webbing/Straps:
36". Optional Length: Any custom length available, like 12", 14",18",20",22",24",32",42",48" and more.
3. Lanyard Webbing/Straps Material:
High quality and heavy duty polyester webbing, non-wrinkle lanyard straps.
4. Colors of Lanyard Webbing/Straps:

Red color.
Standard color available: black, royal blue, navy blue, white, red, yellow, orange, grey, burgundy, dark green, light green, purple and teal colors - minimum order 100 pieces.
Special Pantone PMS colors with a minimum order of 5000 pieces or more.

5. Type of Logo:
Silk screen imprinted.
6. Imprint Colors:
White color.
7. Font of Text Logo:
Time New Roman Font - lanyard artwork designed by our artist.
8. Lanyard Hardware Attachments:
Metal Swivel Hooks (J-Hooks).
9. Available Standard and Optional Lanyard Hardware Attachments:

Standard option: metal swivel hooks, key rings or badge clips.
Optional: heavy duty snap hooks, cell phone connector, rubber rings, detachable buckles, safety breakaway buckles and more.

10. Lanyard Applications:
Used as Kenya Airways Premier World Passengers Travel And Cargo Services Name Badge Holder Lanyards.
11. Lanyard Minimum Order:
100 Pieces.
Y
ou are Viewing UMX > Lanyards > Lanyards Reference Guide > LY-404HD > Kenya Airways Premier World Passengers Travel And Cargo Services Name Badge Holder Lanyards.
---
---

Contact: info@umei.com