MONDELLO PERFORMANCE PRODUCTS Lanyards
MONDELLO PERFORMANCE PRODUCTS Lanyards are Purple Color Lanyards with White Color Company Name Printed. Lanyard straps are purple color heavy duty models. Total lanyard straps length: 36", with silk screen imprinted white color logo. Lanyard hardware attachments: metal badge clips.
Lanyards, Lanyards Reference Guide, LY-404HD, Pricing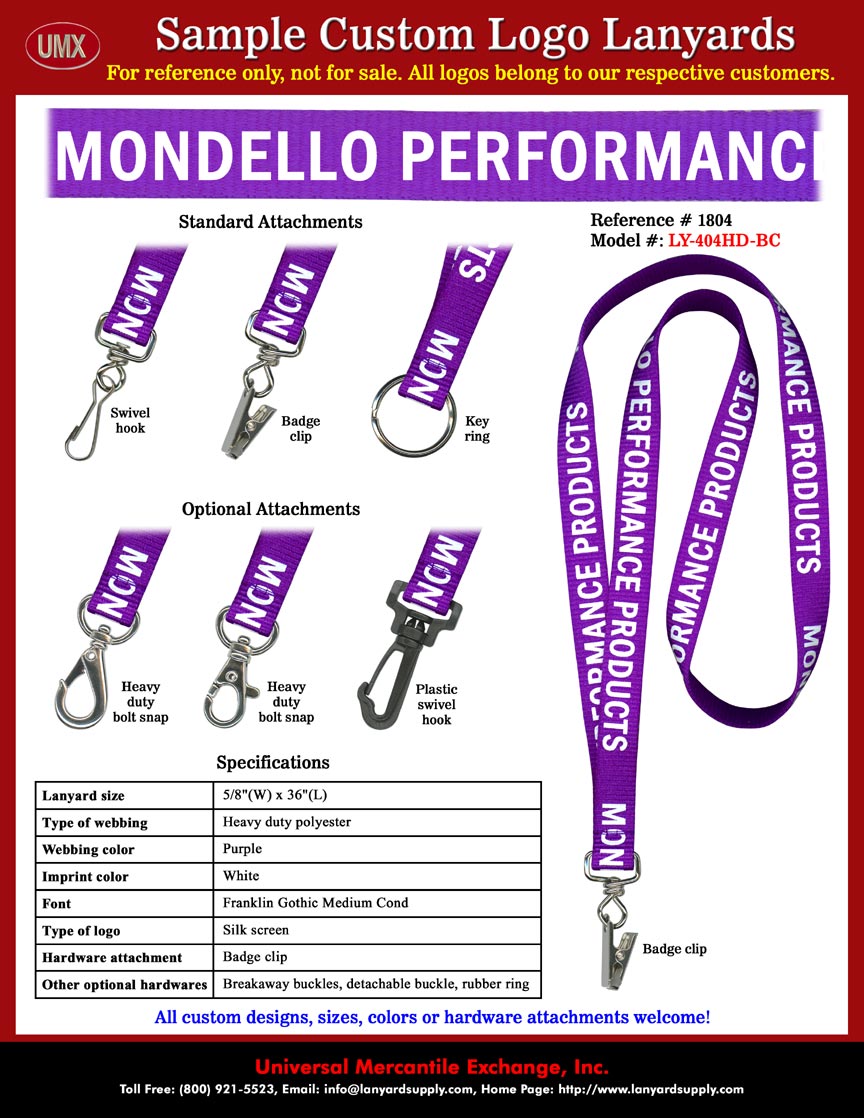 About Mondello Performance Products
Specializing in Oldsmobile Engines and Engine Parts for High Performance, Drag

Racing, Marine and Street applications.

Joe Mondello and Racing are synonymous with each other. In 1951, Joe was racing at airports and drag strips throughout Southern California. Those were the days when you started a race with a flag man starter, not a Christmas tree. In the early 1950's, before Joe was 17 years old, he had already ported & relieved more than 50 Ford flat head blocks for the finest engine builders of that era.

Joe's first car was a '40 Ford coupe with a 303 c.i.d. flat head Ford along with 4 Stromberg Carbs, Edelbrock heads & manifold and of course, an Engle camshaft. In the 1960's, Joe also worked part time for Carroll Shelby building the performance heads and engines that won the Le Mans Grand Prix. Those Shelby Ford Cobras, 1st, 2nd, 3rd & 4th places respectively. Traco Engineering, known at the time for extremely fast Indy cars and various sprint cars, utilized Mondello heads exclusively. In those days, the shop's clientele read like a "Who's Who" of drag racing greats.

Today, Chevrolet performance cylinder heads still utilize the identical combustion chamber, which Joe designed in the early 1960's known as the "Posi-Flow" chamber. Joe Mondello designed open chamber big and small block Chevy cylinder heads and pistons long before Chevy did.

The famed Mondello-Matsubara Blown Fuel Altered won two National Events in the 1960's. In the 60's & 70's, this was the fastest wedge-head Chevrolet, running a 7.24 E.T. @ 213 mph at the 1969 Indy U.S. Nationals. All of the great drag race cars ran with Mondello. The first 7,6 & 5 second Top Fuel runs and the first 200 mph runs in Top Gas, Top Fuel, Injected Fuel, Fuel Altered were all accomplished using Mondello cylinder heads and Don Garlits set most of these records, making Mondello the most notable, historically recognized heads.

Joe Mondello has set national records and won events over the years with both cars and boats. Bernard Mondello, Joe's son, grew up surrounded by the richest heritage in drag racing history. During the early 70's, this winning father-son combination went to work at the Parker Dam 9 hour enduro, winning the Jet Boat class with an Olds 455 in 1972 and in 1975 & 1976, back to back wins with a 500 c.i.d. dual-quad big block Chevrolet. The Mondello's showed they could excel on the water as well as the dragstrip. Joe's worldwide clientele bears this axiom out; using Mondello heads & engines, they have set every type of record imaginable.

Joe Mondello began doing research & development work for Oldsmobile in 1968 and his ongoing commitment and dedication has merited him the name of "Dr. Oldsmobile". Joe is celebrating over 38 years in the high performance manufacturing industry. He has given 44 years of technology & "hands on" experience to the sport of drag racing. Joe Mondello will be around for many more years, designing, building and providing you all of the best high performance products money can buy.

Always remember, at Mondello's you get what you pay for: "Horsepower, not promises".

Specifications: 5/8" Silk Screen Imprinted Custom Lanyards: MONDELLO PERFORMANCE PRODUCTS Lanyards.
1. Width of Lanyards:
5/8".
2. Length of Lanyard Webbing/Straps:
36". Optional Length: Any custom length available, like 12", 14",18",20",22",24",32",42",48" and more.
3. Lanyard Webbing/Straps Material:
High quality and heavy duty polyester webbing, non-wrinkle lanyard straps.
4. Colors of Lanyard Webbing/Straps:

Purple color.
Standard color available: black, royal blue, navy blue, white, red, yellow, orange, grey, burgundy, dark green, light green, purple and teal colors - minimum order 100 pieces.
Special Pantone PMS colors with a minimum order of 5000 pieces or more.

5. Type of Logo:
Silk screen imprinted.
6. Imprint Colors:
White color.
7. Font of Text Logo:
Franklin Gothic Medium Condense.
8. Lanyard Hardware Attachments:
Metal Swivel Hooks (J-Hooks).
9. Available Standard and Optional Lanyard Hardware Attachments:

Standard option: metal swivel hooks, key rings or badge clips.
Optional: heavy duty snap hooks, cell phone connector, rubber rings, detachable buckles, safety breakaway buckles and more.

10. Lanyard Applications:
Used as horse show lanyards, event lanyards or sports event lanyards.
11. Lanyard Minimum Order:
100 Pieces.
Y
ou are Viewing UMX > Lanyards > Lanyards Reference Guide > LY-404HD > MONDELLO PERFORMANCE PRODUCTS Lanyards - Purple Color Lanyards with White Color Company Name Printed Lanyard Supplies.
---
---

Contact: info@umei.com