University of North Carolina at Charlotte - Chartwells College & University Dining Services Lanyards
The University of North Carolina - UNC Charlotte - Chartwells College & University Dining Services Lanyards come with Dark Green Color Lanyard Straps with White Color Logo Imprinted. Lanyard straps are dark green color heavy duty models. Total lanyard straps length: 36", with silk screen imprinted white color logo. Lanyard hardware attachments: metal swivel hooks (j-hooks).
Lanyards, Lanyards Reference Guide, LY-404HD, Pricing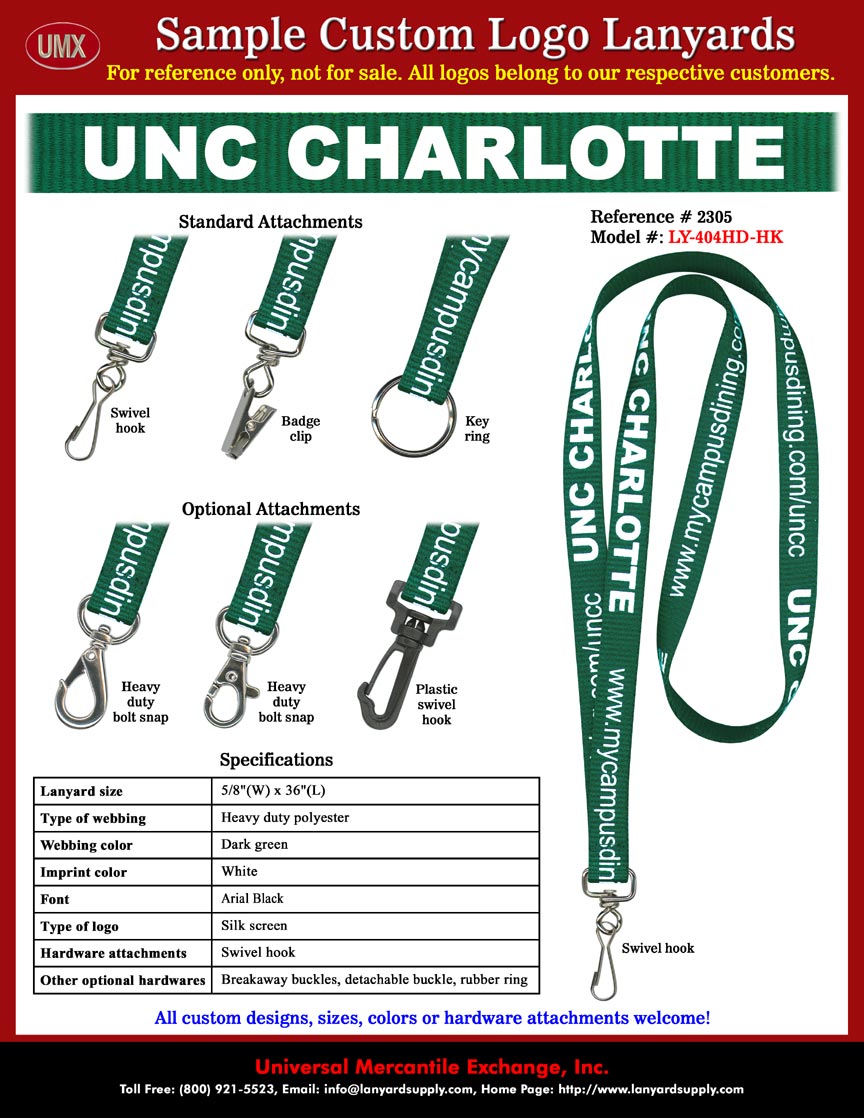 About University of North Carolina Charlotte - Chartwells College & University Dining Services Lanyards - Related Information

"About UNC Charlotte Dining Services. We are Chartwells College & University Dining Services and are proud to be your foodservice management team. Campus dining is an important part of your college experience. Our goal is to make your dining experience the best it can be by providing good, nutritious food in a fun and relaxing atmosphere. We also strive to deliver superior customer service each day. So come and join us and enjoy the comfort, convenience and inviting atmosphere that we have to offer!
UNC Charlotte is the fourth largest of the 16 institutions within the University of North Carolina system. It serves the people of North Carolina, with special emphasis on Charlotte, the nation's 35th largest city, and the surrounding 13-county metropolitan region, which includes 1.5 million people.
With enrollment approaching 20,000 students (45 percent men, 55 percent women), including about 4,000 graduate students. UNC Charlotte is the largest institution of higher education in the Charlotte region. Enrollment is projected to increase annually through the year 2010, bringing the university a projected student body of more than 25,000.

Students come to UNC Charlotte from 98 counties in North Carolina, from 44 States, and about 80 foreign countries. Minority students, including African-Americans, Asians, Hispanics and Native Americans, comprise about 25.2 percent of UNC Charlotte's student body.

A doctoral/research intensive university, UNC Charlotte is composed of seven colleges: the College of Arts and Sciences and six professional colleges — Architecture, Business Administration, Education, Engineering, Information Technology, and Health and Human Services. The university offers more than 80 programs leading to bachelor's degrees, over 58 master's degree programs and 12 doctoral programs. The university also offers a multidisciplinary Honors College for talented, motivated undergraduates and a Graduate School. UNC Charlotte's faculty includes 879 full-time members, with nearly 90 percent holding the highest degree in their fields.

UNC Charlotte's first emphasis is on teaching, followed by applied research and responsive public service. The student-faculty ratio is approximately 15 to 1. Contract research amounts to more than $24 million a year. The university's outreach programs extend into each of the 13 counties in the surrounding metropolitan region.

UNC Charlotte is committed to serving the community, state and nation through centers and institutes such as the Charlotte Research Institute, the UNC Charlotte Urban Institute, Ben Craig Center (a business incubator), Center for International Studies, Office of Continuing Education, Extension and Summer Programs, Center for Applied and Professional Ethics, the Global Institute for Energy and Environmental Systems and the 3,200-acre University Research Park, which employs more than 25,000 workers.

UNC Charlotte confers about 4,000 degrees a year and UNC Charlotte has about 70,000 living alumni.

The university's 1,000 acre campus holds 74 buildings, including the J. Murrey Atkins Library, which contains more than one million volumes, state-of-the art computer labs and various special collections."

Specifications: 5/8" Silk Screen Imprinted Custom Printed University of North Carolina Charlotte - Chartwells College & University Dining Services Lanyards.
1. Width of Lanyards:
5/8".
2. Length of Lanyard Webbing/Straps:
36". Optional Length: Any custom length available, like 12", 14",18",20",22",24",32",42",48" and more.
3. Lanyard Webbing/Straps Material:
High quality and heavy duty polyester webbing, non-wrinkle lanyard straps.
4. Colors of Lanyard Webbing/Straps:

Dark green color.
Standard color available: black, royal blue, navy blue, white, red, yellow, orange, grey, burgundy, dark green, light green, purple and teal colors - minimum order 100 pieces.
Special Pantone PMS colors with a minimum order of 5000 pieces or more.

5. Type of Logo:
Silk screen imprinted.
6. Imprint Colors:
White color.
7. Font of Text Logo:
Time New Roman Font - lanyard artwork designed by our artist.
8. Lanyard Hardware Attachments:
Metal swivel hooks (j-hooks).
9. Available Standard and Optional Lanyard Hardware Attachments:

Standard option: metal swivel hooks, key rings or badge clips.
Optional: heavy duty snap hooks, cell phone connector, rubber rings, detachable buckles, safety breakaway buckles and more.

10. Lanyard Applications:
Used as University of North Carolina - UNC Charlotte - Chartwells College & University Dining Services Lanyards.
11. Lanyard Minimum Order:
100 Pieces.
Y
ou are Viewing UMX > Lanyards > Lanyards Reference Guide > LY-404HD > University of North Carolina - UNC Charlotte - Chartwells College & University Dining Services Lanyards.
---
---

Contact: info@umei.com