The Dismas House of Saint Louis Lanyards
The Dismas House of Saint Louis is A Supportive Community By Providing Transitional Housing and Services to Reconcile Former Prisoners to Society. Lanyard straps are navy blue color heavy duty models. Total lanyard straps length: 36", with silk screen imprinted white color logo. Lanyard hardware attachments: metal swivel hooks (j-hooks).
Lanyards, Lanyards Reference Guide, LY-406HD, Pricing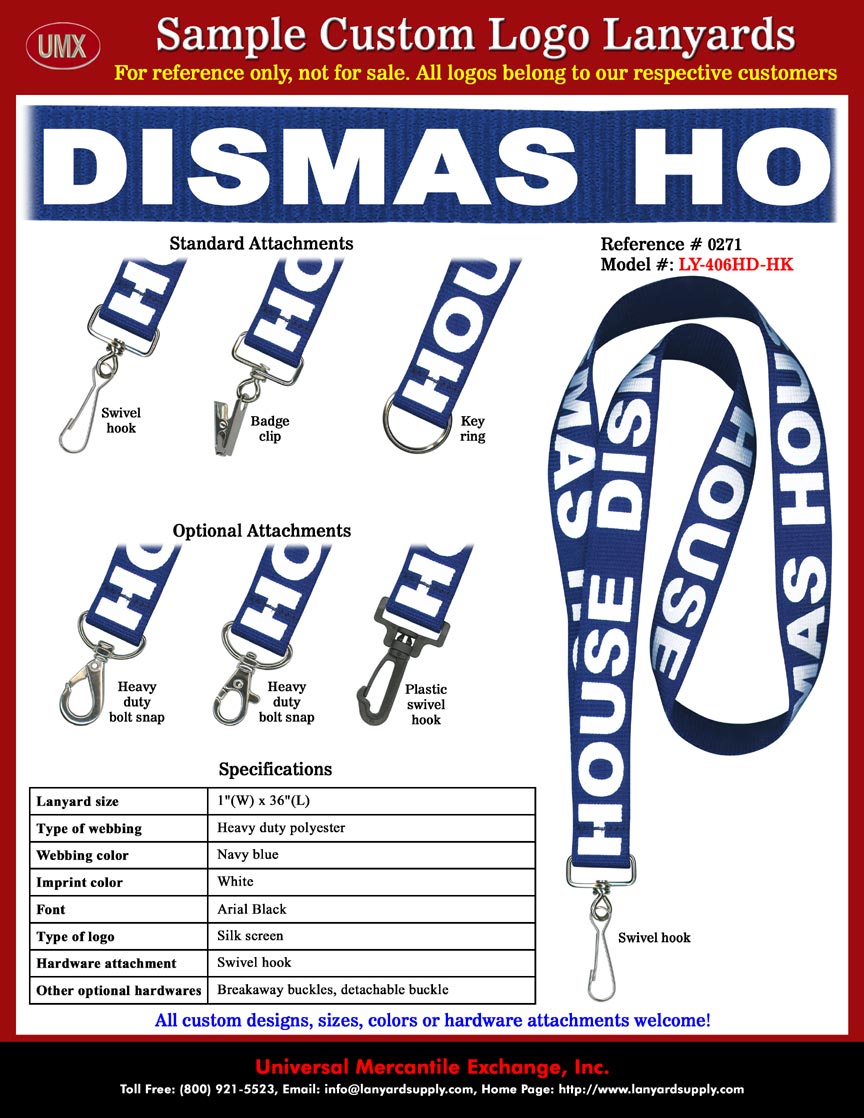 The Dismas House of Saint Louis Lanyards - Related Information
"What is Dismas House?
Dismas House is a supportive community that provides transitional housing and services to former prisoners and real-life educational opportunities to students from area colleges, and from througout the US and the world! The men and women of Dismas House live and work as a family, helping each other grow towards the goal of reintegration into society. Dismas provides a consesnsus-based, sober alternative to a return to the streets, and a return to incarceration. Our cooks, donors, board members and other volunteers help make reconciliation a reality.

"Dismas House Works!"
-Sister Helen Prejean, author of Dead Man Walking and Nobel Peace Prize nominee

Dismas House does work. Both a city-sponsored study and a three-year tracking project of recidivism rates found that Dismas House residents stabilize and succeed at rates between 69-75%. This stands in stark contrast to the general prison population, who return to jail at a rate of 75%!

How it Works
The key to Dismas House is the phrase "Dismas is family". The success of the house is a collaborative effort. People living in the house pay part of the operating expenses. Students are given opportunities for internships in non-profit management and/or live-in positions in the Dismas community. There are simple rules, such as no violence, drugs or alcohol; and there are expectations, such as attendance at dinners, curfews, chores and participating in house meetings and activities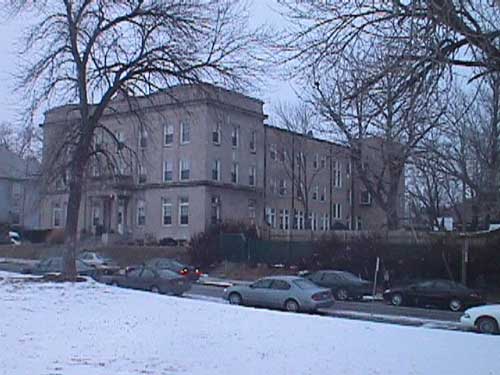 How it All Began
Dismas was founded in 1974 by Rev. Jack Hickey, O.P., and concerned students from Vanderbilt University in Nashville. They recognized the need for former prisoners to have a stable housing environment after release from incarceration. In 1988, concerned citizens in Central Massachusetts opened a Dismas House in Worcester, following the example of Jack Hickey and his students.

The Mission
The mission of Dismas is to reconcile former prisoners to society, and society to former prisoners, through the development of a supportive community.

Supportive community is characterized by: students and former prisoners living together in a family setting, active involvement of volunteers from the broader community, and a spirit of open and participative decision-making by all in the community, with emphasis on the common good."
Specifications: 1" Silk Screen Imprinted Custom Lanyards: The Dismas House of Saint Louis.
1. Width of Lanyards:
1".
2. Length of Lanyard Webbing/Straps:
36". Optional Length: Any custom length available, like 12", 14",18",20",22",24",32",42",48" and more.
3. Lanyard Webbing/Straps Material:
High quality and heavy duty polyester webbing, non-wrinkle lanyard straps.
4. Colors of Lanyard Webbing/Straps:

Navy color.
Standard color available: black, royal blue, navy blue, white, red, yellow, orange, grey, burgundy, dark green, light green, purple and teal colors - minimum order 100 pieces.
Special Pantone PMS colors with a minimum order of 5000 pieces or more.

5. Type of Logo:
Silk screen imprinted.
6. Imprint Colors:
White.
7. Font of Text Logo:
Arial Black Font, Lanyard artwork designer by our artist.
8. Lanyard Hardware Attachments:
Metal swivel hooks (j-hooks).
9. Available Standard and Optional Lanyard Hardware Attachments:

Standard option: metal swivel hooks, key rings or badge clips.
Optional: heavy duty snap hooks, cell phone connector, rubber rings, detachable buckles, safety breakaway buckles and more.

10. Lanyard Applications:
Used as The Dismas House of Saint Louis Badge Holder Lanyards.
11. Lanyard Minimum Order:
100 Pieces.
Y
ou are Viewing UMX > Lanyards > Lanyards Reference Guide > LY-406HD > The Dismas House of Saint Louis Lanyards.
---
---

Contact: info@umei.com