Fort Dorchester Elementary School Safety Badge Holder Lanyards
The Fort Dorchester Elementary School Safety Lanyards come with Dark Green Color Lanyard Straps with White Color Logo Imprinted. Lanyard straps are dark green color heavy duty models. Total lanyard straps length: 36". Silk screen imprinted with white color logo. Lanyard hardware attachments: curved plastic safety breakaway buckles and metal key rings (split rings).
Lanyards, Lanyards Reference Guide, LY-503HD, Pricing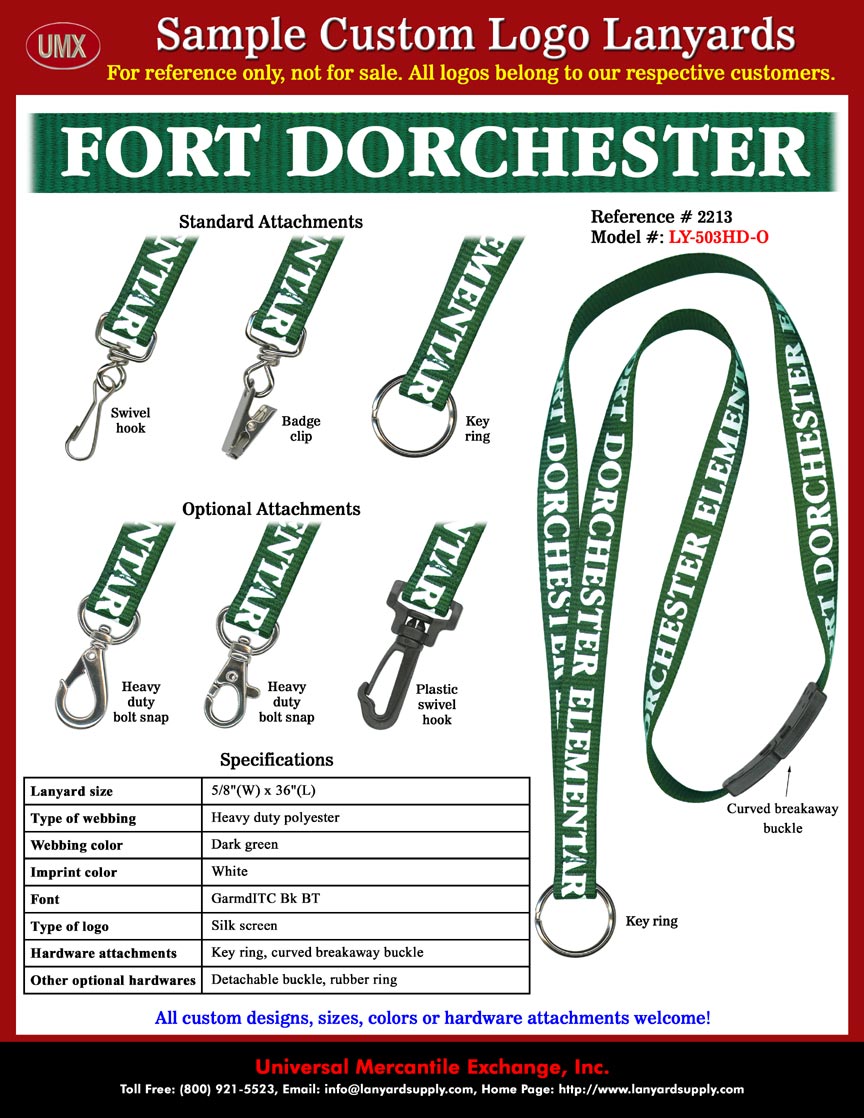 Fort Dorchester Elementary School Safety Badge Holder Lanyards - Related Information
"Fort Dorchester Elementary School Principal's Welcome !
Welcome to a fine, fine school with fine, fine students, and fine, fine teachers! Fort Dorchester Elementary School is a wonderful child oriented place! The school first opened the doors for students in August of 2002. We are a new school, but have hit the ground running! We are the ninth elementary school established in Dorchester District Two, and received students from two existing school in the district: Windsor Hill Elementary and Oakbrook Elementary Schools. Fort Dorchester Elementary School now has an enrollment of approximately 1,078 pre-kindergarten through grade 5 students. All students live within 4 miles of the school, and are transported by 11 school buses.
Fort Dorchester Elementary School is supported by a strong PTA. The fundraisers, dedication to student learning and curriculum, and the teacher support have been phenomenal! Teacher grants, a reading program, Santa Shop, teacher treats, and terrific volunteer program are among some of the projects sponsored by our PTA.
Teacher staff development is a focus for our school. The faculty comes from many parts of the state and even the country, and brings skills and creative abilities with them. The faculty has been, and will continue to have, a key position in planning and implementing staff development opportunities. Eight faculty members are members of the South Carolina Reading Initiative, which has been a tremendous help in developing a plan for staff development.
The strong faculty and motivated students look forward to a long time of learning and growing together. We welcome visitors, and are proud to show off our beautiful new facility and all of the learning going on in the building!

Mrs. Farris

Mission Statement:
Fort Dorchester Elementary School is committed to guiding and challenging each student to succeed in life!"

Specifications: 5/8" Silk Screen Imprinted Fort Dorchester Elementary School Safety Badge Holder Lanyards.
1. Width of Lanyards:
5/8".
2. Length of Lanyard Webbing/Straps:
36". Optional Length: Any custom length available, like 12", 14",18",20",22",24",32",42",48" and more.
3. Lanyard Webbing/Straps Material:
High quality and heavy duty polyester webbing, non-wrinkle lanyard straps.
4. Colors of Lanyard Webbing/Straps:

Dark Green color.
Standard color available: black, royal blue, navy blue, white, red, yellow, orange, grey, burgundy, dark green, light green, purple and teal colors - minimum order 100 pieces.
Special Pantone PMS colors with a minimum order of 5000 pieces or more.

5. Type of Logo:
Silk screen imprinted.
6. Imprint Colors:
White color logo.
7. Font of Text Logo:
GarmdITC Bk BT Font, lanyard artwork designed by our designer.
8. Lanyard Hardware Attachments:
Curved plastic safety breakaway buckle on the back of neck and metal key ring (split ring).
9. Available Standard and Optional Lanyard Hardware Attachments:

Standard option: metal swivel hooks, key rings or badge clips.
Optional: heavy duty snap hooks, cell phone connector, rubber rings, detachable buckles, safety breakaway buckles and more.

10. Lanyard Applications:
Used as Fort Dorchester Elementary School Safety Badge Holder Lanyards For Students, Teachers or Staffs.
11. Lanyard Minimum Order:
100 Pieces.
You are viewing UMX > Lanyards > Lanyards Reference Guide > LY-503HD > Fort Dorchester Elementary School Safety Badge Holder Lanyards.
---
---

Contact: info@umei.com