UMX Ireland Shamrock Flower Lanyards with Irish Shamrock Green Flower Patterns
Great For St. Patrick's Day Name Badges, Fashion ID Holders or Promotional Giveaway.
Shamrock, as a symbol and integrated fashion of Ireland, United Kingdom, Scotland and Wales, the green shamrock flower lanyards are great to wear at any season. Especially at St. Patrick's Day, the shamrock lanyards are great for event name badge holders. Our standard shamrock flower lanyards come with heavy duty nickel color swivel hooks, badge clips, key rings, or cell phone connectors. They also come with a variety of optional hardware attachments, such as safety break-away buckles, heavy duty nickel color, gold, antique brass or black nickel color snap hooks.
Lanyards, Holders, Reels, Clips, Making, Straps, Wrist

Pre-Printed Pattern, Custom Imprint, Straps, Hardware,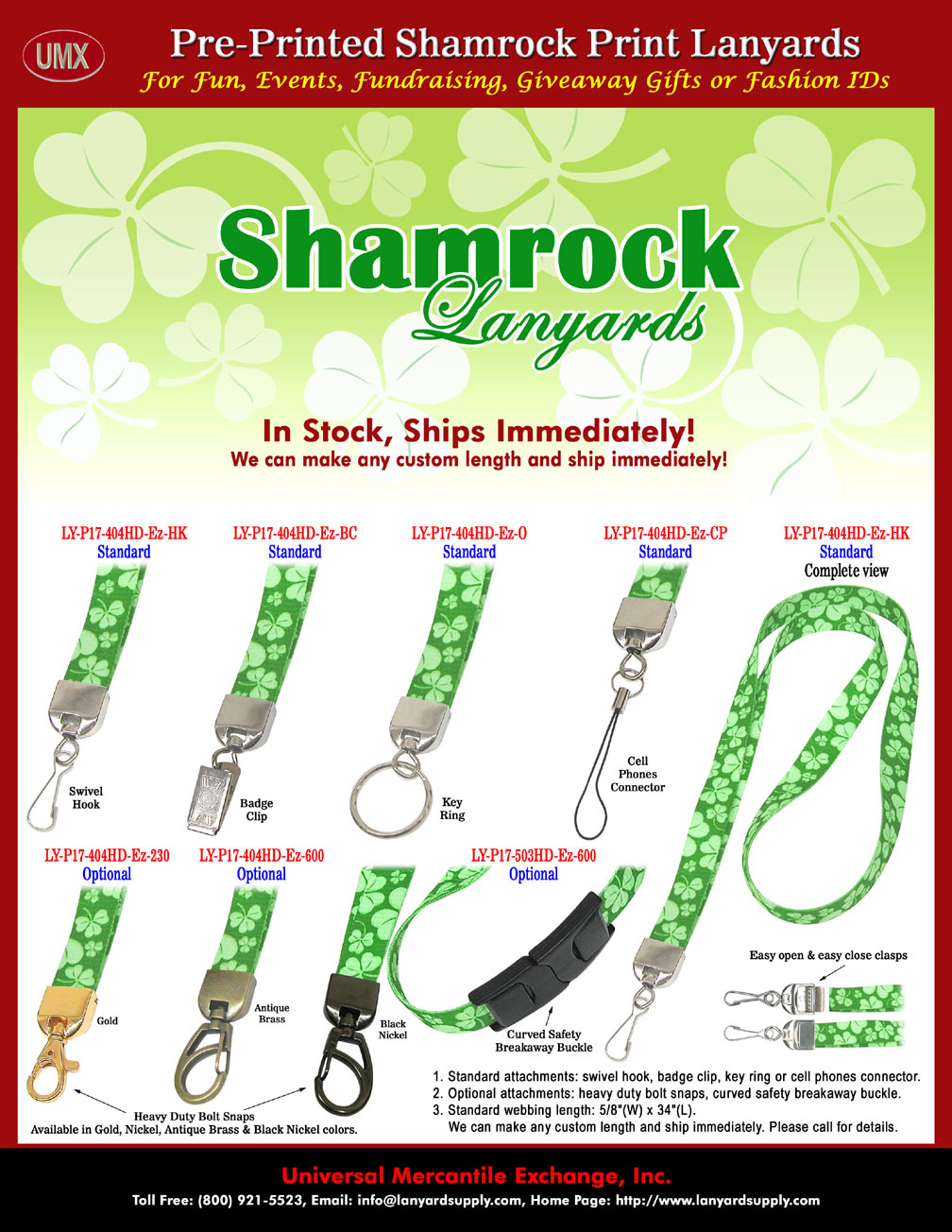 Pre-Printed Pattern, Custom Imprint, Straps, Hardware,

Free Artworks, Full Imprinting Colors Available
Custom Printed Lanyard Reference Guide

Specifications: Shamrock Lanyards
1. Standard Width of Lanyards:
5/8".
2. Standard Length of Webbing/Straps:
34". Optional Length: Any custom length available, like 12", 14",18",20",22",24",32",36",42",48" and more.
3. Webbing/Straps Material:
High quality and heavy duty polyester webbing, non-wrinkle lanyard straps.
4. Standard Colors of Webbing/Straps:
Shamrock Green Color. Optional: Any Pantone PMS colors with a minimum order of 1000 pieces or more.
5. Standard Hardware Attachments:
Metal: Ez-Adjustable nickel color: swivel hooks, badge clips, badge straps, key holder rings or cell phone connector.
6. Optional Hardware Attachments:

Heavy duty snap hooks with nickel, black nickel, antique brass or gold colors available.
Safety breakaway buckles.
Double-Ends and Double Hardware Attachments.

7. Way of Patterns:
Dye sublimated on both sides with Irish shamrock flower pattern.
8. Custom Imprinting:
Use the shamrock flower patterns as back ground.
Any customized or personalized logo printed on checkered board lanyards available.
9. Applications:

St. Patrick's Day events, kids party for fun, fundraising for event fundraisers, promotional giveaway, gifts, zoo's gift shop resale stores, or for small business fashion ID name badge holders.
Can be use as neck lanyards or wrist lanyards for ID name badges, dog leashes, tools holders and as shoulder straps for handbags, bags, or purses.
Can be used to carry camera, cellular phone, USB flash cards, USB flash drives, CD players, iPod players or MP3 players, flash lights, keys, small tools, key holders, small meters, electronic devices and more.

10. Minimum Order:
1 Piece/Per Color, Per Style. Small Minimum Order: Good for Personal Use or for Name Badge holders.
In written English, the first reference to the Shamrock dates from 1571, and in written Irish, as seamrog, from 1707. As a badge to be worn on the lapel on the Saint's feast day, it is referred to for the first time as late as 1681. The Shamrock was used as an emblem by the Irish Volunteers in the era of Grattan's Parliament in the 1770's, before '98 and The Act of Union. So rebellious did the wearing of the Shamrock eventually appear, that in Queen Victoria's time Irish regiments were forbidden to display it. At that time it became the custom for civilians to wear a little paper cross colored red and green. As a symbol of Ireland it has long been integrated into the symbol of the United Kingdom, along with the Rose, the Thistle and the Leek of England, Scotland and Wales. So today, on St. Patrick's Day, a member of the British Royal Family presents Shamrock to the Irish Guards regiment of the British Army.
You are viewing UMX > Lanyards > Ez-Adjustable Plain and Pattern Printed Neck Wear > Ireland Shamrock Flower Lanyards with Irish Shamrock Green Flower Patterns.
---
---

Contact: info@umei.com