Fire Sprinkler Systems
Fire Sprinkler Systems: Fire Sprinkler Two-Piece Canopies, Escutcheons, Rosettes, Skirts with Brass, Chrome, Nickel Finishes.

We manufacture fire sprinkler escutcheons, rosettes, skirts, and canopies to protect fire sprinkler and control the direction of water sprayed. Any custom design fire sprinkler parts - Welcome ! Your best fire sprinkler accessories and supplies OEM manufacturer.
Gallery #3:
Fire Sprinkler Systems: Fire Sprinkler Two-Piece Canopies, Escutcheons, Rosettes, Skirts with Brass, Chrome, Nickel Finishes.
3/4" or 1/2" I.P.S. model available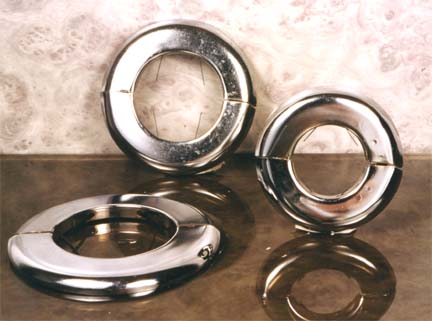 <Click> for Larger Picture of Gallery #3:
Fire Sprinkler Systems: Fire Sprinkler Two-Piece Canopies, Escutcheons, Rosettes, Skirts with Brass, Chrome, Nickel Finishes
Main Menu - Fire Sprinkler Flat Canopy, Escutcheon, Rosette, or Skirt Plates
Main Menu - Fire Sprinkler Accessories and Supplies
---
---
Order Hot Line Call: 1- (800) 755-6608

Contact UMX: info@umei.com


Copyright ©UMX - Universal Mercantile Exchange, Inc., 1998 (All Rights Reserved)