UMX BAMBOO HANDLES: HANDBAG HANDLES: FASHION HANDLES
The Fashion Comes From The Beauty Of Nature
The beauty of nature - bamboo root handles - with flexible sizes, shapes and styles for your fashion backpacks, purses, handbags, wallet or briefcases.. We accept custom designs.
Model #: AT10, AT15 Half-Ring Round Handle
Color Comparison Picture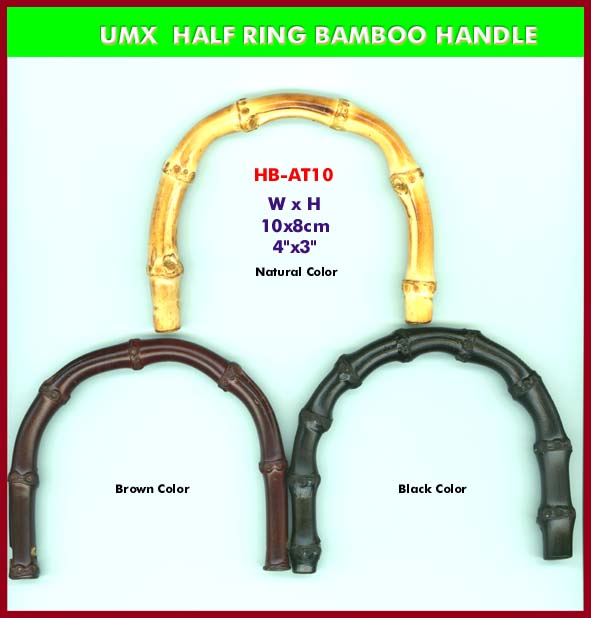 The comparison color of natural, brown and black color bamboo handles.
The above picture is a real size of bamboo handle for 800x600 resolution, 72 DPI monitor.


HB-AT15NB Black Bamboo Style Nylon Handle
Main Menu AT10,15,18, OT-11,15,19

<Main Menu - Fashion Handles, Handbag Handles>
---
Order Hot Line Call: 1- (800) 921-5523

Contact UMX: info@umei.com

We design and manufacture light weight, high quality fashion handles for fashion handbags and leather goods. Our fashion handles can be made of polyester, metal, alloy, bamboo, wooden, ABS, plastic, nylon or apparel etc. These colorful, stylish and sophisticated fashion handles will help you create exciting lines of purses, handbags, backpacks, wallet or briefcases fashions.
Copyright ©UMX - Universal Mercantile Exchange, Inc., 1998 (All Rights Reserved)