HINO TRUCKS Lanyards - with White Color Lanyard Straps
The Hino Diesel Trucks (U.S.A.) - HINO TRUCKS Lanyards come with White Color Lanyard Straps with Black, Pantone PMS #185 Red and Pantone PMS #444C Gray Color Logo Imprinted. Lanyard straps are white color heavy duty models. Total lanyard straps length: 36", with silk screen imprinted Black, Pantone PMS #185 Red and Pantone PMS #444C Gray - 3 color logo. Lanyard hardware attachments: metal swivel hooks (j-hooks).
Lanyards, Lanyards Reference Guide, LY-405HD, Pricing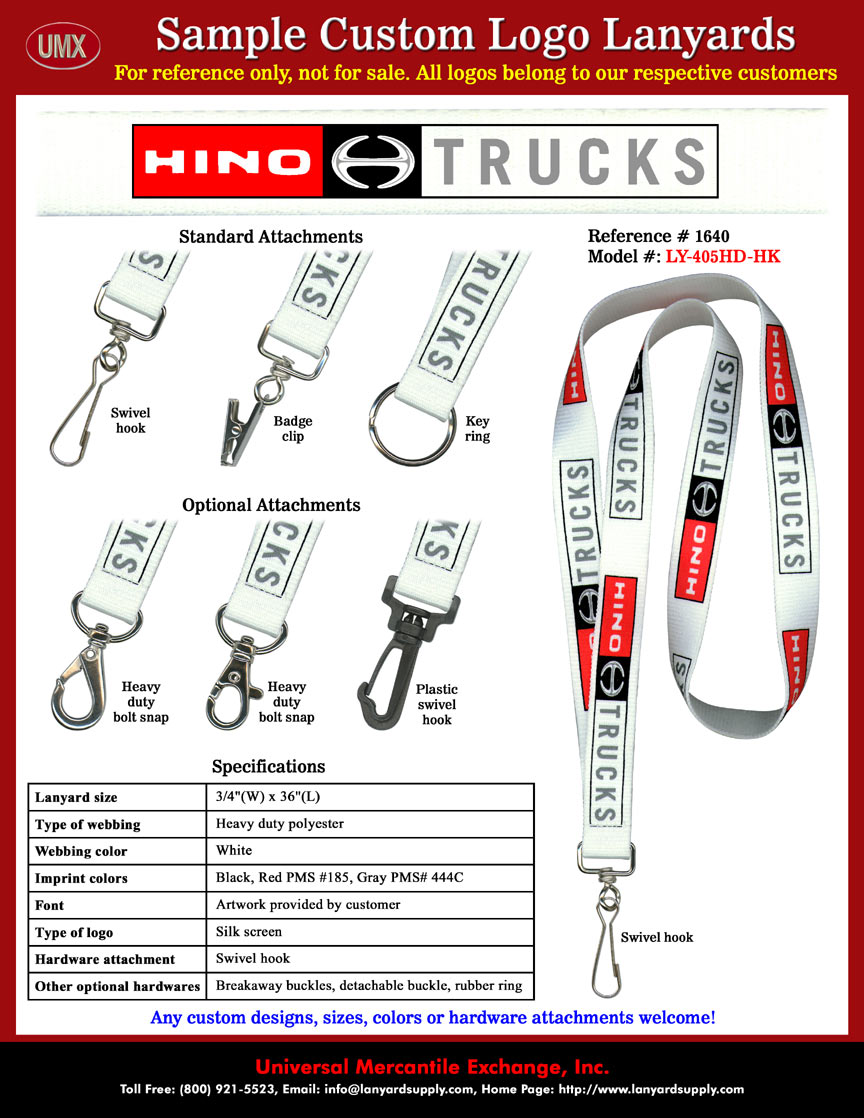 Hino Trucks Lanyards - Related information
"Hino Trucks Announces New U.S.A. Organization

In a move aimed at increasing its presence in the US truck market, Hino Motors Ltd. has announced a restructuring of its distribution company, Hino Diesel Trucks (U.S.A.), Inc. (HDT).

Orangeburg, NY May 30, 2003 As part of this effort, Hino has entered into an investment agreement with PCP Holdings, Inc., a wholly owned subsidiary of Penske Corporation along with its existing partners in HDT, Mitsui & Co., Ltd., Mitsui & Co. (U.S.A.), Inc. A formal agreement was signed on May 24, 2003.

HDT will build a nationwide sales and service network that will offer a new line of conventional medium duty trucks incorporating leading edge Hino Diesel engines and American produced driveline components.

"This organization will offer products and services providing a new level of quality and dependability for the North American market," said Mitsuo Kikuchi, President of HDT. "We want to introduce products and services that simply make better business sense for our customers."

As part of the new organization HDT has named Mr. Derek Kaufman as Sr. VP, Sales, Marketing and Customer Support. Mr. Kaufman brings 25 years of Heavy Transportation experience to Hino including customer-focused roles with Euclid, Freightliner and Penske Corporation.

Hino Diesel Trucks (U.S.A.), Inc. is the U.S. distribution company for Hino Motors Ltd. of Tokyo, Japan. Based in Orangeburg, New York, the Company sells and services Class 4,5,6 and 7 trucks.

HINO– MADE IN THE UNITED STATES

California Manufacturing Plant Comes On Line

Long Beach, California October 19, 2004 Hino Motors Manufacturing (HMM) celebrated the opening of its manufacturing facility in Long Beach, California. A joint venture with Toyota's TABC, Inc., this plant is the first vehicle manufacturing entry in California in nearly twenty years. The current start-up staff of 50 people will grow as Hino ramps the plant to a targeted production level of 10,000 trucks per year by 2006. This new facility marks the beginning of Hino's North American truck production and shows Hino's commitment to help grow the California and USA economies. In addition to this facility, Hino had recently opened a new parts manufacturing facility in Ontario, CA. Combined, these facilities represent a $30M investment and employ approximately 300 people.


MADE IN AMERICA — In 2003, Hino produced and sold 87,000 Hino trucks/buses worldwide. Now Hino is targeting a production level, for the Long Beach, CA, facility, of 10,000 fuel efficient trucks each year. As Derek Kaufman, Senior Vice President of Sales, Marketing, and Customer Support highlighted in his interview on Los Angeles television station KCAL, and in interviews with Bloomberg, Heavy Duty Trucking and AP Wire Services, "Toyota is committed to building products where their customers live and work. The Hino plant in California is the latest example of that commitment. In addition, the American components for the drive lines of these trucks also produce jobs throughout the country."


Hino – Made in the USA."
Specifications: 3/4" Silk Screen Imprinted Custom Lanyards: Hino Trucks 3 Color Logo Imprinted.
1. Width of Lanyards:
3/4".
2. Length of Lanyard Webbing/Straps:
36". Optional Length: Any custom length available, like 12", 14",18",20",22",24",32",42",48" and more.
3. Lanyard Webbing/Straps Material:
High quality and heavy duty polyester webbing, non-wrinkle lanyard straps.
4. Colors of Lanyard Webbing/Straps:

White color.
Standard color available: black, royal blue, navy blue, white, red, yellow, orange, grey, burgundy, dark green, light green, purple and teal colors - minimum order 100 pieces.
Special Pantone PMS colors with a minimum order of 5000 pieces or more.

5. Type of Logo:
Silk screen imprinted.
6. Imprint Colors:
Black, Pantone PMS #185 Red and Pantone PMS #444C Gray - 3 color logo.
7. Font of Text Logo:
Artwork provided by customer.
8. Lanyard Hardware Attachments:
Metal swivel hooks (j-hooks).
9. Available Standard and Optional Lanyard Hardware Attachments:

Standard option: metal swivel hooks, key rings or badge clips.
Optional: heavy duty snap hooks, cell phone connector, rubber rings, detachable buckles, safety breakaway buckles and more.

10. Lanyard Applications:
Used as Hino Trucks Corporation ID Lanyards or Hino Trucks Sales Promotion Lanyards.
11. Lanyard Minimum Order:
100 Pieces.
Y
ou are Viewing UMX > Lanyards > Lanyards Reference Guide > LY-405HD > Hino Trucks 3 Color Logo Imprinted Lanyards.
---
---

Contact: info@umei.com