UMX PLASTIC HANDBAG HANDLE: AP091
BLACK COLOR PLASTIC HANDLE
These dyed black color light weight, durable plastic handbag handles are fashioned from plastic, polyester. The black color model is an optional color.
Size: Apx. Width: 4.3", Height: 4.7"
measured from the outside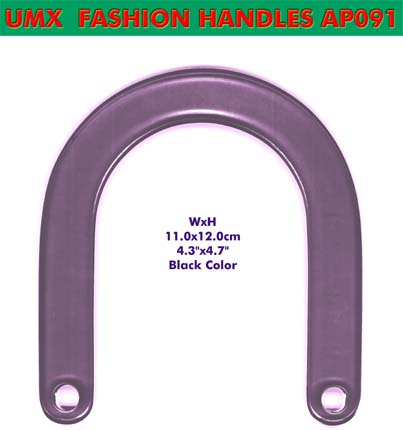 You can get the black color looking handles from the white color not transparent model or from the clear transparent model. Basically the differences between these two model are one can see-through others can't.

AP-050 - Handbag Handle - Main Menu
AP-064 AP-068 AP-071 AP-080 AP-082 AP-090
AP-091 - Handbag Handle - Main Menu
Optional or custom made dyed colors and minimum order
Magnetic Snaps Snap Buttons Rivets and Studs
Main menu - Handbag Fashion Handle Series
---
---
Order Hot Line Call: 1- (800) 755-6608

Contact UMX: info@umei.com