UMX PLASTIC HANDBAG HANDLE: AP091
YELLOW COLOR PLASTIC HANDLE
These dyed yellow color light weight, durable plastic handbag handles are fashioned from plastic, polyester. The yellow color model is an optional color.
Size: Apx. Width: 4.3", Height: 4.7"
measured from the outside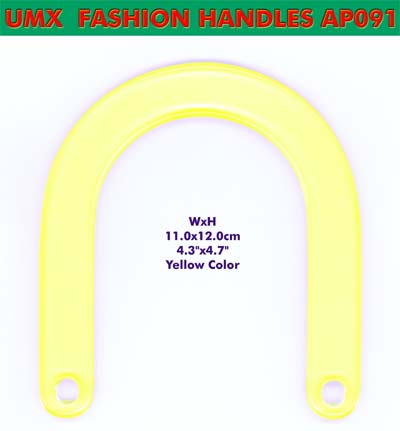 You can get the yellow color looking handles from the white color - not transparent model or from the clear transparent model. Basically the differences between these two model are one can see-through others can't.

AP-050 - Handbag Handle - Main Menu
AP-064 AP-068 AP-071 AP-080 AP-082 AP-090
AP-091 - Handbag Handle - Main Menu
Optional or custom made dyed colors and minimum order
Magnetic Snaps Snap Buttons Rivets and Studs
Main menu - Handbag Fashion Handle Series
---
---
Order Hot Line Call: 1- (800) 755-6608

Contact UMX: info@umei.com