UMX Fashion Purse Frame HP8184
Metal Handbag Frame with Shoulder Strap Connectors
HP8184 is one of the latest purse frames. It comes with two o-rings on the top side of purse frame for shoulder straps, handles or chains. It is made of metal with gorgeous gold color. Mainly designed for women's purse, it comes with easy-to-open and easy-to-close purse enclosure.
Size: Apx. Width: 5", Height: 3"
measured from the outside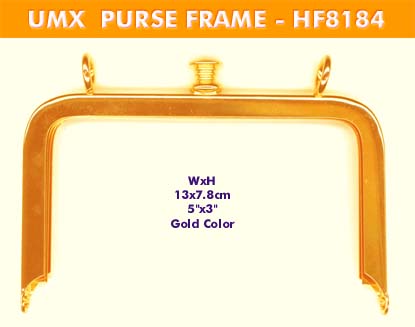 Over-All-View of Purse Frame HF8035 to HF8184
HF8035 HF8037 HF8038 HF8181 HF8184
Magnetic Snaps Snap Buttons Rivets and Studs
Main menu - Purse Frame, Handbag Frame Series
Main menu - Handbag Fashion Handle Series
---
---
Order Hot Line Call: 1- (800) 921-5523

Contact UMX: info@umei.com